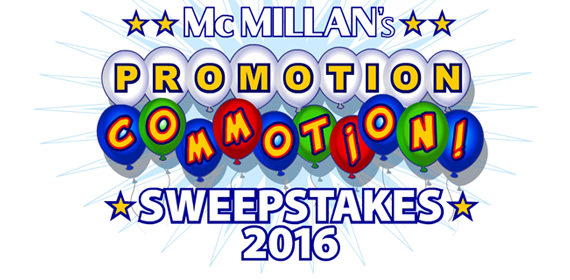 What was the commotion about?
Every month in 2016, we gave one lucky Airman $1,000!
Our Promotion Commotion Sweepstakes is finished now, but you can read about the monthly winners below.

MSgt Vanessa Pichon
The Pentagon, VA
December 2016
For this recent testing cycle, I used PDG Made Easy (Kindle version) and loved that I was able to study anywhere, anytime with my phone or tablet.

SSgt Diann Cunningham
RAF Lakenheath, UK
November 2016
Thank you for creating McMillan Study Guides! Great product! I made SSgt with it, and I am studying for TSgt with McMillan Study Guides.

TSgt Andrew Dobbe
Eielson AFB, AK
October 2016
I have used PDG Advisor in the past and am currently using it as part of my study plan. I like how it incorporates the MKTS into its study plan, which is very useful when trying to study AFH 1.

TSgt Omar Portillo
JB Pearl Harbor-Hickam, HI
September 2016
I love PDG GOLD because it not only breaks down the PDG, but it also breaks down the real test. I have tested several times and saw answers worded the exact same way on the test.

TSgt Oldanges Skebong
JB San Antonio, TX
August 2016
Thanks, team McMillan. I've been using your study guides for all my promotions, and I can say that I would never have been able to make that next stripe without your product.

SrA Jabri Muhammad
Randolph AFB, TX
July 2016
I just want to say thank you for the opportunity and I really appreciate it.

TSgt Lakeshia Smiley
Kunsan AFB, KR
June 2016
I have been utilizing McMillan's study guides for about two years. PDG GOLD for SNCOs has been helpful to assist in my goal of making rank. Thank you for selecting me as the winner of the monthly sweepstakes.

TSgt Cameron Frizzell
RAF Mildenhall, GB
May 2016
I have used McMillan's guides every testing year. It makes studying fun and easy. Without it, I wouldn't have been able to progress in my career as fast as I have. Thank you for the help.

SSgt Cindy Sprague
Malstrom AFB, MT
April 2016
McMillan's study guides helped me not only pass my 5-level CDCs, but achieve a score way above my goal. Additionally, last year I used PDG Advisor to test for Staff and I made rank. Truly, using these study guides is a great way to ensure promotion and upgrade training!

SrA Sean Goddard
Keesler AFB, MS
March 2016
I love your products, especially PDG Advisor. It brings up important topics that Airmen need to know and the quizzes and ReviewNotes are perfect for getting Airmen up to speed.

SrA Kierra Adams
Wheeler AAF, HI
February 2016
I've heard great things about Advisor from coworkers. I will be testing soon and hope it will pay off.

TSgt Hiralda Hammel
Minot AFB, ND
January 2016
I love the products available from McMillan Study Guides. As a busy wife, mom and full-time USAF member, the Audio CDs make studying on the go very easy! I listen to them to and from work. Thank you!
2014-2015 Sweepstakes

2011-2013 Sweepstakes

2009-2011 Sweepstakes

2007-2009 Sweepstakes



MSgt Jaclyn McCord
Nellis AFB, NV

SSgt Sarah Pingel
Little Rock AFB, AR

TSgt Paul Lindsay
Maxwell AFB, AL

SrA Jordan Masingale
Tyndall AFB, FL

SSgt Brandon Davis
Eglin AFB, FL

SMSgt Jonathan Jacob
Langley AFB, VA

SSgt Joshua VanHorn
Aviano AB, IT

SSgt Kevin Harzbecker
Pease AFB, NH

SSgt Travis Ng
Fort Bragg, NC

SrA Brandi Gustafson
Eglin AFB, FL

SrA Aaron Haas
Little Rock AFB, AR

SrA Edith Sanchez
Mountain Home AFB, ID

MSgt Kari Rattler
Edwards AFB, CA

TSgt Jacob Watson
Nellis AFB, NV

MSgt Marcia Swenson
Fairchild AFB, WA

SrA Juan Torres
Bolling AFB, DC

SSgt Aaron Keeter
Kadena AB, JP

TSgt Samual Dickerson
Tyndall AFB, FL

SSgt Renardo Sanders
Eielson AFB, AK

SrA Michael Wright
Tinker AFB, OK

TSgt Miranda Jackson
Shaw AFB, SC

MSgt Ebony Stepp
Spangdahlem AB, DE

TSgt Shanandoah Derrico
Ramstein AB, DE

SSgt Philip Primmer
Patrick AFB, FL


MSgt Matthew Coltrin
Whiteman AFB, MO

SSgt Nathaniel Mitchell
Yokota AFB, JP
SSgt Hope Riley
JB Charleston, SC

MSgt Keisha Bady
Kadena AB, JP

SSgt Jennifer Fuentes
Keesler AFB, MS

SSgt Sean Foster
Ramstein AB, DE

SrA Colin Cortez
Beale AFB, CA

TSgt Nathaniel Brooks
Lackland AFB, TX

SSgt Jesse Phillips
Vandenberg AFB, CA

TSgt Daniel Cheston
Misawa AB, JP

TSgt Nicomedes Gealogo
Los Angeles AFB, CA

TSgt Calvin Hawkins
Scott AFB, IL

TSgt Philip Gant
Altus AFB, OK

MSgt Karen Dreitzler
Hurlburt Field, FL

SrA Gregory Skrjanc
Andrews AFB, MD

SSgt Clyde McNeil
Misawa AB, JP

SrA Mykal Tanner
Mountain Home AFB, ID

SSgt Stephanie Tognotti
Lackland AFB, TX

SrA Brandon Alvarez
Key West, FL

SrA David Tierney
Dayton, OH

SSgt Joseph Arnold
RAF Mildenhall, UK

SSgt Jarrod Nave
APO, AE

SSgt Zachary Cooper
Fort Walton Beach, FL

TSgt Robert Wagner
APO, AE

TSgt Ricky Montgomery
APO, AE

SrA Anthony Gathers II
Brandon, FL

SrA Danielle Voskuil
Lompoc, CA


SSgt Kirk Sheppard
APO, AE

SSgt Joshua Strom
Prattville, AL

SSgt Scott Finn
Tucson, AZ

SSgt Liam Hale
Guthrie, OK

SSgt Ben Panske
Tampa, FL

SMSgt Brendan Leach
Honolulu, HI

SSgt Matthew Greubel
Wichita Falls, TX

TSgt Richard Pelletier
Albuquerque, NM

SSgt Vanessa Caberto Miller
Edwards, CA

TSgt Tamika White
Warner Robins, GA

Amn Eric Glatczak
McGuire AFB, NJ

SrA David Greene
Rapid City, SD

SMSgt John Bilczewski
Buckeye, AZ

SSgt Juan Reynoso
Colorado Springs, CO

SrA Justin Hummer
APO, AE

MSgt Matthew Cooper
Honolulu, HI

SMSgt David Little
Vail, AZ

TSgt Layne Ayotte
Mountain Home, ID

TSgt Kenneth Jefferson
APO, AE

TSgt Matthew Foulkes
San Antonio, TX

TSgt Wesley Keville
Bonaire, GA

SSgt Michael Leal
APO, AE

MSgt John Hogan
APO, AP

A1C Daniel Merilien
Travis AFB, CA


TSgt Kathy Locklear
Marston, NC

SSgt Jared Terman
Cabot, AR

SSgt Michael Ishizuka
Kaneohe, HI

SrA Maura Dennehy
Abilene, TX

SSgt Chason Palmer
Burkburnett, TX

SSgt Daryle Brown
Cameron, NC

SSgt Joshua Vance
Crestview, FL

SMSgt Jay Waldner
Layton, UT

SSgt Karen McGhee
Rapid City, SD

SSgt Wendy Arnett
APO, AE

TSgt Nicole Valentine
Navarre, FL

SrA Michael Bush
Hampton, VA

SSgt Michele McAdam
FPO, AE

SSgt Christopher Lopardi
San Angelo, TX

MSgt Darrell Sherrod
Warner Robins, GA

SSgt Kyle Sichting
Fort Walton Beach, FL

TSgt Tiffaney Brochu
Great Falls, MT
SSgt Simon Garcia
APO, AE

TSgt William Evans
Rapid City, SD
SrA Jason Vanderheiden
Colorado Springs, CO

SSgt William McCoy
Vacaville, CA
1st Drawing
September
2007

SSgt Carla Thornton
APO, AE

SSgt Jason Macy
Cannon AFB, NM

SMSgt Cory Nicolson
Randolph AFB, TX