At McMillan Study Guides, we believe in giving back to the communities we serve — both local and military. Since 2000, we've donated more than $150,000 to charitable organizations through our 'Call a Friend' program.
In addition to recurring donations, we immediately respond to unforeseen needs. Whether it's warm blankets for the homeless shelter on rainy days, or Christmas gifts for disadvantaged children — our partners know they can 'Call a Friend' and we'll be there to help.
5450

McMillan Study Guides is proud to support Cup of Joe For a Joe, the Green Beans Coffee program that allows us to thank deployed servicemen and women for their hard work with a gift of coffee.
Military-Related Organizations
---
Call a Friend™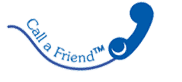 McMillan's Volunteerism Program
Our tradition of community support is rooted in our company's culture.
Outside the office, our employees generously support causes that are meaningful to them. We are proud of their impact in our community and we support their efforts through McMillan's Volunteerism Program (MVP).
Through MVP, we match volunteer time at $10 per hour. When an employee volunteers at least 25 hours to a cause during a six-month period, we present a $250 grant to that organization in his or her name. Each employee may earn up to $500 per year on behalf of eligible non-profit organizations.