Meet Your Perfect Study Plan
Only PDG Advisor uses the Air Force's MKTS Survey to prioritize the material most likely to be on your exam.
Just sign in on any Internet-connected device — no app or installation required. As you cover PDG sections, Advisor tracks your progress and suggests what to study next.
Take our advice — get yours today!

See for yourself.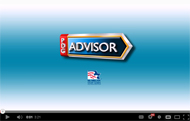 Why Advisor?
Study anywhere.
Prioritize by MKTS rating.
View peer statistics.
Design a custom study plan.
Focus your studies by rank.
Use your favorite online devices.
Get new features instantly.